Catching Up With Bracelet Winner Jason Young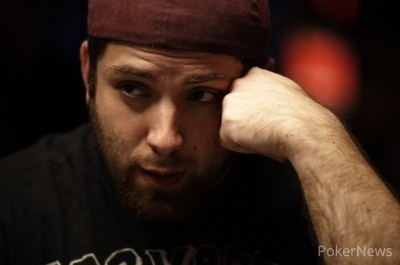 Jason Young won a World Series of Poker gold bracelet back in 2008, but has since stepped away from the game to open a restaurant named The Turn in New Jersey. He is also now a father of one with his girlfriend. Young opted to head down to Florida for the Seminole Hard Rock Poker Open $10 Million Championship Event, and was kind enough to talk with us.
PokerNews: With the new baby, your girlfriend, and the restaurant you don't get to play much anymore. Why did you decided to come down to this event?
Jason Young: It's a big combination of things, really. For a ten million dollar guarantee, anybody that has any idea of how to play poker – or maybe don't even know how to play poker – you see a ten million dollar guarantee and you're going to try and figure out a way to make it work. Also I just had a baby and my girlfriend's parents live down here. It's Florida, it's not some sh***y city where you wouldn't want to go, so we decided to make a little vacation out of it.
How often do you get to play poker?
[Laughs]. Twice a year? It's really difficult. The restaurant opened in June of 2012, and I just played the [WSOP] Main Event last year. I'm trying to start to get out and play a little more, because I miss it honestly. I miss seeing my friends. It's different not being able to hang out with the likes of Lee Childs and Jared Jaffee, and what not. This year I played a couple of tournaments at the Borgata, I plan on trying to go back in September and make a few more stops. You know, baby steps, just getting out for a few days and seeing how things are. Its just time is, I don't know, I don't have time to play at all.
But this is a great thing for me to be able to play. I love it even more now than I ever did when I was playing all the time.
Yeah, does the time off help you enjoy the game more when you do play?
I mean, it's still the same kind of obnoxious torture from obnoxious people that don't have a clue how to deal with other human beings. People are still people, and people overall suck. There's (sic) some good people, but most people suck in one way or another. It's fun to be here and I definitely love playing, but you remember quickly when you take a sick beat for a huge pot, it brings back those nightmarish flashbacks. You quickly remember what it's like being on the grind.
I miss playing. I love playing. These huge guarantees, these are great for the game. This venue is beautiful, the chips are beautiful, and the tournament seems to be super well run. They had the balls to take a shot and everybody came. Literally. I've never been to the PCA [PokerStars Caribbean Adventure] – I've heard what the PCA is like – this is like a mini-Vegas stop. Everyone is here. This tournament's huge.
Speaking of beats, you took a really horrendous one yesterday. Can you talk about it?
I was playing really well. It's weird, when you haven't played you're so happy to be back and you see things so much clearer. Even when I'm not playing, I'm reading hand histories from friends and on PokerNews, I'm watching it on TV, and you see how people are playing. People are still generally bad, for the most part, so when I'm relaxed and I'm not drained from the grind then I can be patient. I've chipped up a lot in the last few tournaments I've played, and this was no exception. I went straight up to 60-70,000 and took that up to 115,000. With about an hour and a half left in the day I flopped a set of nines, got it in for a 230,000-chip pot against two kings, and he turned a king.
I was never at risk all day long, and suddenly I was out. So that was a little stunning. You forget what it feels like. I was sitting there thinking I was going to be one of the chip leaders, win this huge, monster pot, have a shot at this tournament, a nice day off, and instead you're back here trying to figure out how to buy in the next day because you see how bad everyone is and you realize you can't miss it.
How is the Turn treating you?
The Turn is great. I underestimated how much work it was going to be to be honest. It's seven days a week, 120 hours a week, it's so much work. It's really rewarding when you see your place full and everything is going well, and people are really responding well to it. A lot of poker guys come to visit. Lee has been there, Jarred has been there, Chris Lindh – who finished 16th in the Main Event – has been there. He was working as a bartender for me at the one-year anniversary on June first. There's been a bunch of guys come visit, which is cool, but it's so time consuming that if I want the place to run well, and run the right way, I need to be there all of the time. I don't think going in that I was prepared for a seven-day a week grind. This poker grind, people talk about that, but this is a whole nother (sic) kind of grinding, and it takes some getting used to. I'm fortunate enough to have some good friends that I have in my personal life and my poker life that I can bounce things off of, and it's going really well.
Before we let you go, what's your opinion on Alex Rodriguez?
Ohhhhhhh, A-Rod. Man. What a tough…this sucks. What kind of a question was that? I guess he really didn't do anything that everyone else wasn't doing. Ahhhhh. [Sighs]. God.
Get all the latest PokerNews updates on your social media outlets. Follow us on Twitter and find us on both Facebook and Google+!