Southpaws in the Box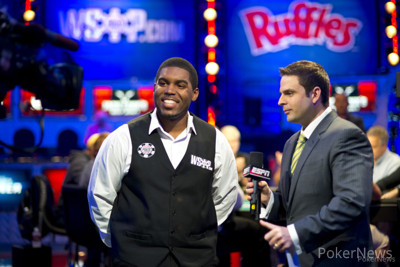 According to Facts-RandomHistory.com, between 10-12 percent of the people on the earth are left-handed. The word left is actually derived the Anglo-Saxon word lyft, which means weak or broken. In Latin, the word for left is sinister.
In Corrado Giaquinto's Satan Before the Lord, Satan is depicted as left-handed.
Let's move to some more positive things, shall we?
In the 57-year history of the Super Bowl, only two left-handed starting quarterbacks have hoisted the Lombardi Trophy: Kenny Stabler and Steve Young (2). Both players also have MVP awards.
In baseball, a sport that is very populated with left-handed an switch-hitting players, 34 lefties have won the coveted Cy Young award, honoring the best pitcher in each league. The first southpaw to win the award was Warren Spahn, who went 21-11 with an ERA of 2.69 and 111 strikeouts for the Milwaukee Braves in 1957.
For poker players, the hand you use doesn't really matter. Some players riffle chips with one hand and look at their cards with the other, while others will interchange, using both their dominant and non-dominant hands. The only problem that can arise from using your non-dominant hand is accidentally exposing your cards, which can lead to a penalty in some cases.
Where handedness comes into play with poker is during dealing, especially when it's time for the dealer to spread the three community cards we call the flop.
The next time you watch televised poker, focus on the dealer's hands when the broadcast cuts to the ever-so-popular flop camera. Nine times out of 10, the community cards will fan from left to right because the dealer is right-handed.
Why?
According to Harry Hepner, author of Advertising – Creative Communication with Consumers, our eyes are trained to moved from left to right.
"Laboratory studies of eye movements show that successive movement of the eyes following the initial fixation is toward the left and upward," Hepner writes.
If Hepner's point seems obvious, it's because it is. You are reading this article from left to right because that's how we've been trained to consume the world of letters, numbers, symbols, and other visuals.
A perfect example of poker television's choice to use right-handed dealers is the Poker PROductions' graphic for the World Series of Poker. That wasn't an accident or a coincidence. They chose a right-handed dealer on purpose.
On Day 7 of the WSOP Main Event this past July, we noticed that there was a left-handed dealer in the box at the feature table. Upon further review, we understood why: Belvy Dalton was the 2013 WSOP Dealer of the Year.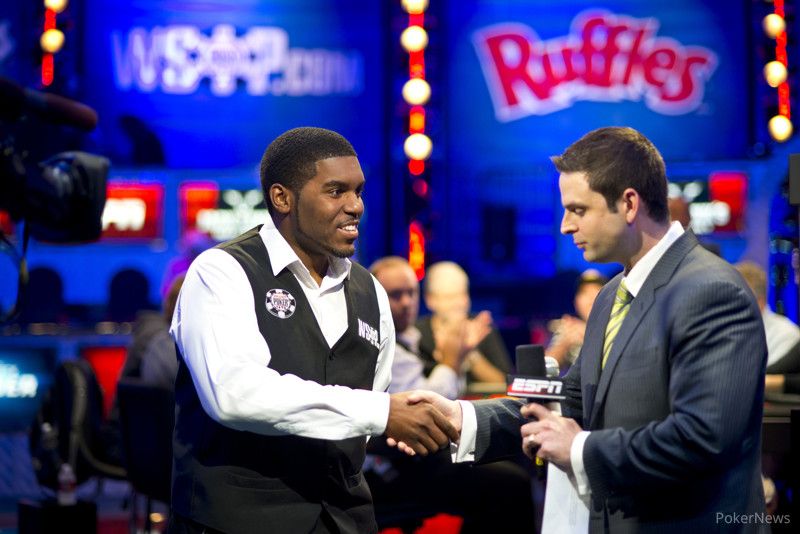 Dalton is here in Florida for the Seminole Hard Rock Poker Open $10 Million Championship Event, and told us that he'll be returning to Las Vegas in November to deal the final table of the Main Event.
"It wasn't that difficult of a process," Dalton said, referring to Poker PROduction's choice to put him, a southpaw, in the box. "I spoke to the producers and they accept the fact that I bring my flop out from right to left. It's the same flop whether it goes left to right or right to left [laughs], so nobody seems to mind anymore."
Dalton even says that there is a small advantage to dealing lefty.
"When it comes down to pitching, a lot of people say that there's an advantage to reach to two seat," he said. "Other than that we deal exactly the same way."
During the Main Event, Dalton was brought onto the main stage to be honored for his accomplishments and to deliver the "shuffle up and deal" in front of the entire room. When asked whether he was more nervous or excited about delivering the famous words, he smiled.
"It was more exciting than anything else," he said. "I had a lot of people to thank and a lot of people to give appreciation to, especially my fellow staff and supervisors."
Dalton then dropped a bomb.
"Actually, I am right-handed," he chuckled. "I just happen to deal with my left hand."
Well, at least he's not weak or broken then.
Dalton is very excited to deal the November Nine, and you'll be able to catch his right-to-left flops on upcoming Tuesday nights on ESPN. You can then judge for yourself whether or not Dalton and other southpaw dealers are acceptable for television, or if Poker PROductions needs to make a call to the bullpen for a right-handed reliever.
Get all the latest PokerNews updates on your social media outlets. Follow us on Twitter and find us on both Facebook and Google+!