$10,000,000 Guarantee Championship
Dias: 4
$10,000,000 Guarantee Championship
Dia 4 Iniciado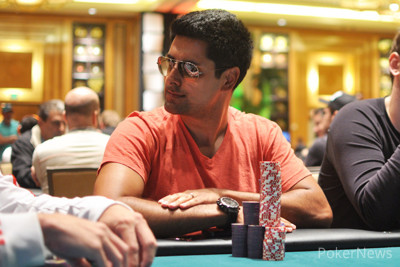 The fourth and penultimate day is about to begin in the Seminole Hard Rock Poker Open $10 Million Guarantee Championship Event. Leading the final 21 players is Mukul Pahuja with 8.125 million chips, and among the leaders are Blair Hinkle, Ryan Olisar, Jeremy Kottler, and Griffin Benger.
Outside of the leader board, there are several other notables still kicking, including David "Doc" Sands, November Niner Amir Lehavot, Day 2 chip leader Justin Bonomo, and two-time WSOP bracelet winner Mark Radoja.
Day 4 will end after five more 90-minute levels, or the players reach an official final table of six.
While PokerNews is not offering live updates from this event, the participating players will be able to utilize the MyStack App. You can download the app for iPhone or Android now to get started. Then, create a new PokerNews account or update your current one to start updating your status immediately. Your followers can see all the live action that you're involved in.
Along with the player updates, PokerNews will be providing you with feature pieces and interviews straight from the tournament floor.
The cards will be in the air shortly, so be sure to come back and check the Player Updates page powered by the MyStack App.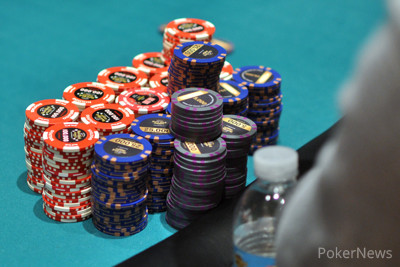 In four hours of play on Day 4, 11 players have been eliminated from the Seminole Hard Rock Poker Open $10 Million Guarantee Championship Event, and the remaining 10 players have formed the unofficial final table. It looks like this:
| Seat | Player | Chips | Big Blinds |
| --- | --- | --- | --- |
| 1 | Samuel Guilabert | 1,240,000 | 12 |
| 2 | Griffin Arnold | 3,100,000 | 31 |
| 3 | Derrick Cutler | 3,900,000 | 39 |
| 4 | Larry Klur | 2,600,000 | 26 |
| 5 | Panagiotis Nifakos | 2,750,000 | 27 |
| 6 | Justin Bonomo | 8,850,000 | 88 |
| 7 | Blair Hinkle | 18,500,000 | 185 |
| 8 | Greg Lehn | 4,300,000 | 43 |
| 9 | Ray Qartomy | 14,100,000 | 141 |
| 10 | Mukul Pahuja | 11,900,000 | 119 |
The average stack is 7.152 million chips, which is roughly 72 big blinds. In the first four hours of play, roughly three players per hour were eliminated, or roughly four per level.
Combined, the 11 players earned $770,817, which averages out to $70,074 per person. Not bad if you only fired one or two bullets in this $5,300 buy-in event.
Krystal Seiling (12th) and Jeremy Kottler (11th) are the only two players who have earned more than six figures thus far, collected $116,350 each for their efforts. The player who finishes in 10th will earn the same amount.
If the remaining 10 players agreed to do an even chop — which is as likely as Phil Ivey folding aces preflop — they would all take home $610,837, which is a little less than fourth place money ($639,925). It's also $37,633 more than Carlos Mortensen received for bubbling the World Series of Poker Main Event final table.
According to the Hendon Mob, for all but two of the players at the unofficial final table, the $1,745,245 first-place prize is larger than all of their career live tournament earnings combined. Justin Bonomo ($6,079,068) and Blair Hinkle ($1,770,558) are the two exceptions, and Hinkle clears the margin by just over $25,000.
Hinkle is also the only WSOP bracelet winner remaining. He won a $2,000 no-limit hold'em event back in 2008, earning $507,613. Blair's brother Grant Hinkle also won a bracelet that summer.
The only other player with even close to seven figures in career tournament earnings is Ray Qartomy. The Texas native has nearly $950,000 in earnings thanks to a high volume – his largest cash came in 2011, when he finished runner-up in the 2011 Doyle Brunson Five Diamond World Poker Classic for $133,230.
Mukul Pahuja, who started the day as the chip leader and moved to Florida two years ago with his now wife, has over $600,000 in career tournament earnings. This is his first career six-figure score, and his previous largest score ($92,050) came at The Isle here in South Florida. Pahuja finished fourth in the 2011 Florida State Poker Championships.
The most important figure right now, however, is the number six. Play will conclude on Day 4 when the remaining players reach an official final table of six, and from there the race to a seven-figure score will be on.
Only six players remain in the Seminole Hard Rock Poker Open $10 Million Guarantee Championship Event, and leading the official final table is professional Blair Hinkle. Hinkle, a World Series of Poker bracelet winner and a player with more than $1 million tied up on Full Tilt Poker bagged 22.8 million chips. Following him on the leader board is fellow pro Justin Bonomo.
| Rank | Player | Chips |
| --- | --- | --- |
| 1 | Blair Hinkle | 22,800,000 |
| 2 | Justin Bonomo | 18,500,000 |
| 3 | Ray Qartomy | 13,050,000 |
| 4 | Mukul Pahuja | 10,200,000 |
| 5 | Samuel Guilabert | 4,675,000 |
| 6 | Greg Lehn | 2,200,000 |
The fourth and penultimate day began with 21 players, and it only took four hours to reach the unofficial final table of 10. Chris Johnson was eliminated in 18th place when he tried to bluff all in on the river with just jack-high. Ray Qartomy called with a pair of sixes with two overs on board, winning the pot. A short-stacked Mark Radoja exited in 17th place when his
couldn't hold against Hinkle's
. And November Niner Amir Lehavot busted in 16th when he ran pocket deuces into Larry Klur's pocket kings.
David "Doc" Sands was the next player to exit. With the blinds at 40,000/80,000/10,000, Qartomy opened to 180,000 from early position, and Sands moved all in for 1.45 million from the big blind. Qartomy called with
, which was ahead of Sands'
, and Qartomy held as the board rolled out
.
The next few players to exit were Griffin Benger, Ryan Olisar, Krystal Seiling, and Jeremy Kottler. Benger lost a flip, Olisar ran pocket fours into Bonomo's kings, Seiling flopped top-top against a made flush, and, like Benger, Kottler lost a race.
Klur was the first player to exit from the unofficial final table, when he check-jammed against Hinkle on the river of a
board. Hinkle snap-called with
for a set of kings, which had Klur's ace-jack beat. Griffin Arnold and Derrick Cutler busted in ninth and eighth place respectively. Arnold open-jammed with jack-ten, losing to Hinkle's ace-king, and Cutler was eliminated by Bonomo when both players flopped top pair – Bonomo held an ace kicker.
The final elimination provided high drama. Qartomy opened to 400,000 from under the gun with the blinds at 75,000/150,000/25,000, Samuel Guilabert moved all in for 2.2 million in the hijack, and Panagiotis Nifakos called all-in for less. The action folded back to Qartomy, who tanked for a bit before folding
face up.
Nifakos:

Guilabert:
Guilabert won the race as the board came
…
. When the
completed the board, Guilabert slammed the table in excitement, while Qartomy yelled in pain – he was very close to recording a double knockout.
The surviving six players will return on Wednesday at noon EDT to play until a champion is crowned. PokerNews will be on hand for coverage of this massive Championship Event. Players will once again be able to update their status immediately using the PokerNews MyStack App, and you can expect more features and interviews as well.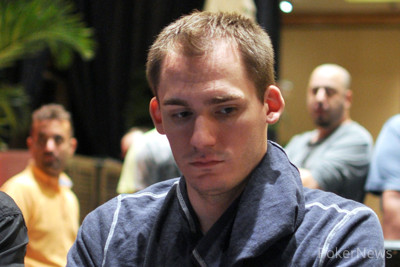 Justin Bonomo is second in chips heading into the final table of the Seminole Hard Rock Poker Open $10 Million Guarantee Championship Event on Wednesday. On Tuesday, after bagging his chips, Bonomo was kind enough to spend a few minutes with PokerNews talking about poker in Florida, making the final table, having Blair Hinkle on his left, and the importance of this event for his résumé.
PokerNews: Let's start with you firing five bullets. You tweeted that you needed to get 63rd or better to profit, but we know you were shooting for better than that. After your fifth bullet, what's your mentality like?
Justin Bonomo: I mean, I'm a poker player. I understand that I ran bad. In fact, it wasn't like it was some complicated situation. I ran kings into ace-queen, aces into kings – losing that for a ton of chips – and ace-king against aces. So I wasn't spewing it off or playing badly, it was just unfortunate situations. I've played millions of hands of poker, so I understand that happens. It felt like a whole new tournament for me.
You obviously thought there was great value in the tournament as well, right?
Yeah. Some people have told me that poker in Florida is usually softer than this, but from my perspective – it's my first time ever playing in Florida – I see 2,300 people entering this tournament, so there's insane value. I would've paid a premium to reenter again for the fifth time. I think this is an excellent tournament.
Do you think that Florida can sustain an event like this every year?
Yeah, I think they can sustain it for once a year. Maybe once every two years. I think for some time to come they can sustain this.
You got a little bit of a tough draw with Blair Hinkle on your direct left at the final table. What do you think about your spot at the table?
I can't give out too many secrets because we still have to play this final table [laughs], but it was definitely annoying having Blair on my left, especially when I didn't have so many chips. I was at about an average stack, so he could push me around. Now that I have 18 million, that's a huge chunk of his stack, so he has to be careful against me too now. Now that I have chips I don't mind him to my left nearly as much as I did before.
While Blair has over a million dollars in earnings, you're the only player with a seven-figure score. What would a big score like this do for your already impressive résumé?
Technically my biggest score is about two million, but that was a $100,000 buy-in tournament and I'm not rich enough to just put up the full $100,000 myself. So I had investors for the vast majority of that buy-in. I don't need first place – or even second place – for this to be the biggest actual tournament score of my life. This is very meaningful to me.
How important is winning? Is it as important as the money itself?
There's so much money on the line that it far outweighs the prestige that comes with winning this event. Obviously this is a great, prestigious event, but $1.7 million? I'm not rich enough to not care about that.
Get all the latest PokerNews updates on your social media outlets. Follow us on Twitter and find us on both Facebook and Google+!
$10,000,000 Guarantee Championship
Dia 4 Concluído