High Roller
Dia 2 Iniciado

| Table | Seat | Player | Country | Chip Count |
| --- | --- | --- | --- | --- |
| 1 | 1 | Julien Sitbon | France | 227,500 |
| 1 | 2 | Jacob Ohlund | Sweden | 110,500 |
| 1 | 3 | Daniel Wilson | Ireland | 66,500 |
| 1 | 4 | Jonathan Therme | France | 118,000 |
| 1 | 5 | Abraham Passet | Germany | 64,500 |
| 1 | 6 | Nicolas Beker | Switzerland | 205,000 |
| 1 | 7 | David Urban | Slovakia | 165,000 |
| 1 | 8 | Andre Cuco Franco | Portugal | 80,000 |
| | | | | |
| 2 | 1 | Mikhail Drozdov | Russia | 91,000 |
| 2 | 2 | Arsh Grover | India | 70,500 |
| 2 | 3 | Nicolas Cardyn | France | 115,000 |
| 2 | 4 | Valentin Frunze | Moldova | 164,500 |
| 2 | 5 | Matthew Ashton | UK | 95,000 |
| 2 | 6 | Robert Willis | Ireland | 95,000 |
| 2 | 7 | James Akenhead | UK | 171,500 |
| 2 | 8 | Enzo Del Piero | UK | 192,500 |
| | | | | |
| 3 | 1 | Philipp Gruissem | Germany | 99,000 |
| 3 | 2 | Ahmed Abdella | Egypt | 112,500 |
| 3 | 3 | Michel Chen | France | 69,500 |
| 3 | 4 | Mladen Ivanov | Bulgaria | 77,000 |
| 3 | 5 | Javier Zarco | Spain | 207,500 |
| 3 | 6 | Michel Abecassis | France | 50,500 |
| 3 | 7 | Pierre Neuville | Belgium | 51,000 |
| 3 | 8 | Neophytos Neophytou | UK | 106,500 |
| | | | | |
| 4 | 1 | Kent Ove Roed | Norway | 43,500 |
| 4 | 2 | Harry Lodge | UK | 118,000 |
| 4 | 3 | Robert Heidorn | Germany | 192,000 |
| 4 | 4 | Peter Jaksland | Denmark | 38,000 |
| 4 | 5 | Jonathan Clark | UK | 80,500 |
| 4 | 6 | Liv Boeree | UK | 209,500 |
| 4 | 7 | [Removed:393] | France | 107,500 |
| 4 | 8 | Irina Nikolaidi | Lithuania | 24,000 |
| | | | | |
| 5 | 1 | Firas Nassar | Lebanon | 199,000 |
| 5 | 2 | Benjamin Morrison | UK | 118,500 |
| 5 | 3 | Joe Johnson | UK | 52,500 |
| 5 | 4 | Eric Le Goff | France | 159,000 |
| 5 | 5 | Mikael Guenni | France | 53,500 |
| 5 | 6 | Gabriel Carter | UK | 95,000 |
| 5 | 7 | Sebastien Buonomo | France | 43,000 |
| 5 | 8 | Tiago Da Silva Freitas Branco | Portugal | 140,000 |
| | | | | |
| 6 | 1 | Nathan Manuel | USA | 153,000 |
| 6 | 2 | Yuriy Boyko | Ireland | 245,500 |
| 6 | 3 | Slaven Popov | Bulgaria | 37,500 |
| 6 | 4 | Chris Moorman | UK | 101,500 |
| 6 | 5 | Franck Makaci | France | 163,000 |
| 6 | 7 | Dmitrii Shchepkin | Russia | 87,500 |
| 6 | 8 | Arnaud Peyroles | France | 70,000 |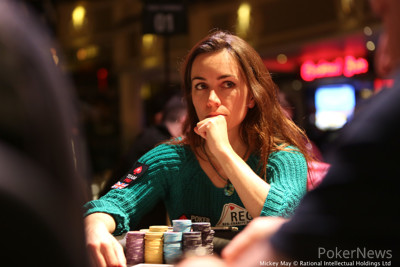 In just under two hours from now at 2 p.m. local time, the 2017 PokerStars Festival London £2,200 High Roller will see 47 players out of a 178-entry strong field return to the tables of the iconic Hippodrome Casino in the center of the English capital. A return on investment is in sight, as the top 34 will share a portion of the juicy £345,320 prize pool and a minimum cash is worth £3,110. The will can look forward to a payday of £67,290 and the event is scheduled to play down to a winner today.
Best-positioned to engrave the name into the history of the series as first-ever PokerStars Festival High Roller champion on European soil is Ireland's Yuriy Boyko with 245,500. He is followed by 2015 Unibet Open Cannes winner Julien Sitbon (227,500) and PokerStars Team Pro Liv Boeree spun up a late entry right after the dinner break to a top three stack of 209,500.
Plenty of other big names made it through to Day 2 including Javier Zarco (207,500), Robert Heidorn (192,000), James Akenhead (171,500), David Urban (165,000), Nicolas Cardyn (115,000), Chris Moorman (101,500), Philipp Gruissem (99,000) and Matthew Ashton (95,000). Serial qualifier and former November Niner Pierre Neuville (51,000), Michel Abecassis (50,500) and Slaven Popov (37,500) have some catching up to do, as they are towards the bottom of the counts.
The action will recommence in level 14 with blinds at 1,500-3,000 and a running ante of 500, the level duration increases to 60 minutes for the remainder of the tournament. Since Day 1a of the £990 Main Event kicks off at the same time, the High Rollers will move from the main area to the top floor of the Hippodrome and can oversee the entire casino. The PokerNews live reporting team will provide updates until the last river card for both events, so stay tuned and check back regularly.
Nível: 14
Blinds: 1,500/3,000
Ante: 500

Nível 14 : 1,500/3,000, 500 ante
From early position, Slaven Popov moved all in for 37,000 and Chris Moorman called from one seat over in the hijack. Arnaud Peyroles in the big blind gave it some thought and apologized to the table for taking his time, then folded and said in table chat he had ace-king.
Slaven Popov:

Chris Moorman:
Popov was in need of help and the flop of
left him in desperate shape. It was all over after the
turn, making the
river a formality.

Nível 14 : 1,500/3,000, 500 ante
Two Frenchmen just doubled their short stacks to stay in contention.
Michel Abecassis three-bet shoved for 49,000 into an open-raise by Javier Zarco and the Spaniard called with
. Abecassis had
and held up despite a scary run out on the board
.
Sebastien Buonomo open-shoved for his last 39,500 from late position and Benjamin Morrison reshoved on the button to isolate with
. Buonomo only had one over card with
, but got there thanks to a board of
.

Nível 14 : 1,500/3,000, 500 ante
Among the latest trio to run out of chips were Arsh Grover, [Removed:393] and Pierre Neuville.
Grover defended his big blind against a raise by Robert Willis and then got it in with
on the flop of
. Willis looked him up with
and the
turn and
river were both blanks to eliminate Grover.

Nível 14 : 1,500/3,000, 500 ante
While Peter Jaksland and Irina Nikolaidi left the tournament empty-handed after busting with their short stacks, Harry Lodge and Franck Makaci have been able to build their stacks.
In front of Makaci was a raise to 18,000 on the button and Chris Moorman had then clicked it up to 43,000 in the cutoff. Makaci looked over at the stack of Moorman and the Brit counted out his chips for the opponent to see. Makaci moved all in and Moorman instantly folded.
One table over, Harry Lodge had already won quite some chips and opened to 7,000 on the button. Jonathan Clark called in the big blind and checked the flop of
. Lodge checked behind and both checked again the
turn. Clark's bet of 13,000 on the
river was called by Lodge, who scooped the pot with
versus
.

Nível 14 : 1,500/3,000, 500 ante
The eliminations continue to come in quickly and tournament staff just announced to the dealers to announce all in and calls at their tables, but continue with the action without waiting. The first table broke and right after, Abraham Passet sent over his short stack to table neighbor Firas Nassar.
The player from Lebanon has been running quite hot early on, and has taken over the lead with 39 remaining. Only the top 34 spots will get paid.

Nível 14 : 1,500/3,000, 500 ante
Joining the action on the
flop, World Series of Poker bracelet winner Matthew Ashton bet 12,500 out of the small blind and called a small raise by Franck Makaci. The duo then headed to the
turn and Ashton shoved for 54,000. Makaci gave it some thought and counted his remaining stack, then folded and mentioned in table chat he feared ace-king.
Ashton raked in the pot with a smile and both players are now almost even in chips.