Nível 10 : 800/1,600, 200 ante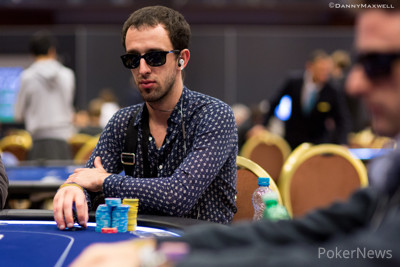 With a big €50,000 Super High Roller, a record-breaking Main Event, and a buzzing Hilton Prague Hotel for all side events during festival, people could only imagine how big the €10,300 High Roller would get. Would the record set last year with 137 players and 39 reentries be broken? Let's find out.
| Year | Champion | Entries | Trend | Top Prize |
| --- | --- | --- | --- | --- |
| 2010 | Nichlas Mattsson | 26 | -- | €127,000 |
| 2011 | John Andress | 50 | +24 | €176,400 |
| 2012 | Marvin Rettenmaier | 108 | +58 | €365,300 |
| 2013 | Ivan Soshnikov | 176 | +68 | €382,050 |
A resounding yes was the answer straight out of the gate. After the 10 one-hour levels were done for Day 1, the tournament clock showed a total of 294 entries, of which 63 players reentered. Registration will remain open till 11:45 a.m. local time Tuesday morning, and after that, and only after registration closes, a table draw will be released.
The amount of notables in an event like this is as long as you'll find anywhere. Every table had at least one player who had won a major event, the World Series of Poker Main Event champion Martin Jacobson and runner-up Felix Stephensen were present, there were tons of former European Poker Tour winners, and millions and millions of dollars in tournament earnings were represented.
Not only was the amount of notables long, but the list of remarkable hands witnessed was extensive as well. Let's take a look.
First, there was Bertrand "ElkY" Grospellier's straight flush versus Govert Metaal's full house. Grospellier had opened before the flop, and Metaal made the call in position. Andrey Andreev called from the small blind, and then he checked to Grospellier on the
flop. The French Team PokerStars Pro bet 2,500, Metaal made the call, and Andreev called.
All three men checked the
on the turn and so the
was seen without a charge. Andreev checked again, and Grospellier bet out 12,200. Metaal thought for a little bit and then just called. Andreev called as well. Grospellier proudly showed his
for a straight flush. Metaal confidently turned over the
, but then realized seconds later that he was beat. Andreev double checked his cards one last time, flashed an ace, and mucked to give Grospellier the pot.
Then there was the big exchange between Martin Kabrhel and Steve O'Dwyer, or should we say monologue? We dubbed it the "Kabrhel Cabaret."
In one of the last hands before the final break, Kabrhel opened to 2,000, and Dmitry Nemirovsky made the call in the cutoff seat. O'Dwyer came along from the big blind, and the flop came down
. O'Dwyer checked, Kabrhel bet 3,000, Nemirovsky folded, and O'Dwyer called. O'Dwyer check-called another 8,000 on the
turn, and the
fell on the river. O'Dwyer bet out 22,000, which prompted the show to start.
While O'Dwyer gave Kabrhel his famous death stare, Kabrhel began talking.
"Flush?" he asked to a non-answering O'Dwyer. "Flush?"
Still no reply.
"Time, Table 18!" shouted the dealer. Not only was O'Dwyer not responding, but neither was the floor. "Time, Table 18!" the dealer shouted in repeat.
"It's OK, no worry," said Kabrhel with a kind of serious face.
"Yeah... time, Table 18!" repeated the dealer.
"So Steve, you want a call or not?" asked Kabrhel again.
"Time, Table 18!" the dealer kept shouting.
"Be a man, Steve," prodded Kabrhel. "Yes or no? Flush?"
In the meantime, a floor person had finally come over and given Kabrhel the one-minute countdown warning.
"One? Really?" said Kabhrel with a not too serious tone of voice as he had been given the notice many times before in his long poker career. "But I need advice from Steve! So yes or no?"
O'Dwyer was listening, but wasn't making a noise.
"You don't speak with me?" kept on Kabrhel. "No? Why not?"
With just a few seconds to go, Kabrhel made the call, and O'Dwyer immediately tabled the
for a full house.
"I was asking you!" said Kabrhel with a smile.
"I know," said O'Dwyer, "but I just wanted to hear you talk."
"Nice call preflop," commented Kabrhel. "I like it. Nice call preflop. That was the only reason I called, because I thought you fold that s*** preflop."
O'Dwyer lost a huge hand not much later when he ran ace-king into Igor Yaroshevskyy's aces, which catapulted the latter into the chip lead. O'Dwyer was relegated to the role of short stack and busted not much later. Kabrhel did much better, finishing with 316,000 in chips — second to end the day.
O'Dwyer didn't reenter straight away, but he still has the option to give it one more try as long as he makes up his mind before 15 minutes prior to the start of Day 2. And why he may not have reentered, several others did.
Team PokerStars Pro Online's Isaac Haxton fired two bullets, but saw them both gone before the dinner break. Benny Spindler and several others tried twice, but they had no chips to bag at the end of day, either. EPT Prague €50,000 Super High Roller winner Leonid Markin was the first to bust, then reentered and didn't do much better on his second bullet.
Andrew Chen, Dermot Blain, Mukul Pahuja, and Jean-Noel Thorel also busted before the day's finish.
On the contrary, Dan Shak, Ole Schemion, Kevin MacPhee, Jonathan Little, Ankush Mandavia, and Mike Watson all bagged up very good stacks to take into Day 2.
There are 137 survivors after the first 10 levels of play, and the tournament will resume at 12 p.m. local time with the goal being to play down to 8 players, or 10 levels, whichever comes first. The first level will be 1,000/2,000 with a 300 ante and the levels will again be an hour long. Play should be done at about 11:45 p.m. at the latest on the penultimate day of play from Prague.
While you wait for Day 2 to begin, be sue to check out the following "My First EPT" video with voice of the tour, James Hartigan: