€1,100 FPS Paris Main Event
Dias: 4
€1,100 FPS Paris Main Event
Dia 4 Iniciado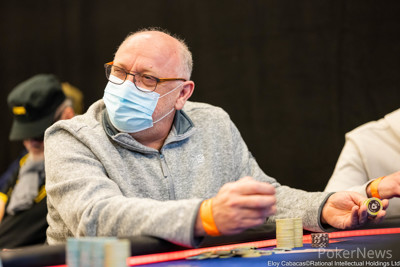 The record-breaking €1,100 France Poker Series Main Event at the 2023 PokerStars European Poker Tour Paris will reach its conclusion today, as the final seven players remaining out of the starting 2,071 return to the Hyatt Regency Paris Étoile. Play will start at 12 p.m. local time, and Jean-Luc Labryga , who started day 2 as the overall chipleader, once again comes in with by far the biggest stack.
Labryga has not slowed down since his Day 1a performance and bagged 20,350,000 chips (68 big blinds) for the final day, more than double that of his nearest contender, Ukraine's Oleksii Natoptanyi.
The French player will try to keep the trophy and accompanying €287,830 top prize on home soil, but his fellow countrymen Roger Taieb, Thibault Reverdito, and short stack Alan Goasdoue also still have a chance of achieving the same feat. Rounding out the final seven players are the Dutchman Elias Fisz and Ireland's Christopher Dowling.
€1,100 FPS Paris Main Event Final Table
| | SEAT | PLAYER | COUNTRY | CHIP COUNT | BIG BLINDS |
| --- | --- | --- | --- | --- | --- |
| | 1 | Alan Goasdoue | France | 3,350,000 | 11 |
| | 2 | Elias Fisz | Netherlands | 9,225,000 | 31 |
| | 3 | Jean-Luc Labryga | France | 20,350,000 | 68 |
| | 4 | Oleksii Natoptanyi | Ukraine | 9,150,000 | 29 |
| | 5 | Roger Taieb | France | 8,100,000 | 27 |
| | 6 | Christopher Dowling | Ireland | 7,300,000 | 24 |
| | 7 | Thibault Reverdito | France | 4,625,000 | 22 |
The final seven players will commence play with blinds of 150,000/300,000 with a 300,000 big blind ante. Levels will last 60 minutes until the final three players have been reached, or a deal as been made, at which point the duration of the level will be halved. All players have secured at least €44,990, but all will be gunning for the top spot.
PokerNews will be present to report the rest of play from this tournament as the players play down to a winner. Don't forget to check out the live coverage of other tournaments here at EPT Paris over at the EPT Paris tournament hub to not to miss any of the action.
Nível: 34
Blinds: 150,000/300,000
Ante: 300,000

Nível 34 : Blinds 150,000/300,000, 300,000 ante
Cards are in the air and action is underway in Day 4 of the €1,100 FPS Paris Main Event.
Nível 34 : Blinds 150,000/300,000, 300,000 ante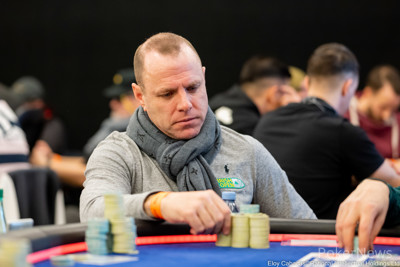 The first postflop hand of the day fell in the hands of Christopher Dowling. The action folded around to him in the small blind, in which he elected to put in a raise to 650,000. Big blind Thibault Reverdito thought for a while before he flat called the bet.
The flop
was reason for Dowling to continuation-bet for 400,000, which Reverdito called. On the
turn Dowling once again put chips in the middle, this time for an amount of 1,050,000. This was too large of a bet for Reverdito, who let his hand go.

Nível 34 : Blinds 150,000/300,000, 300,000 ante
Jean-Luc Labryga opened to 800,000 from under the gun and Elias Fisz defended his big blind.
Fisz checked on the flop of
and Labryga bet 1,000,000. Fisz check-raised to around 2,000 and Labryga pushed out a stack of black 100,000 chips before the dealer confirmed it was a raise. Fisz in turn reraised all in and shrugged and called.
Elias Fisz:

Jean-Luc Labryga:
Just like that the two biggest stacks at the final table were going to war. Labryga had a chance at scooping the pot with a backdoor flush draw but the
turn confirmed a chop before the
river.
Nível 34 : Blinds 150,000/300,000, 300,000 ante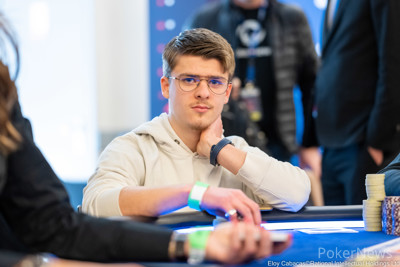 The action folded to short stack Alan Goasdoue, who raised his button to 600,000. Chipleader Jean-Luc Labryga looked him up with a call in the big blind.
Goasdoue put out a minimum bet of 300,000 on
after Labryga checked to him. Labryga quickly called and the two were off to the next street. On the turn
Labryga checked again, and Goasdoue tripled his sizing to 900,000 this time. Once more, Labryga obliged with a call.
The river
rolled off, and Labryga almost instantly announced he was all in, covering Goasdoue multiple times over. Goasdoue did not take much time to make the call for his tournament life.
Jean-Luc Labryga:

Alan Goasdoue:
Both players turned trips, but Goasdoue's kicker played, thus securing the double-up for him.

Nível 34 : Blinds 150,000/300,000, 300,000 ante
Jean-Luc Labryga limped in from early position and Roger Taieb did the same from the hijack, while Elias Fisz checked his option in the big blind.
Fisz and Labryga both checked on the
flop and Taieb bet 450,000. Fisz folded and Labryga called.
"Never want to fold, Jean-Luc!" commented Taieb.
The turn brought the
and Labryga led out for 1,300,000, prompting a quick fold from Taieb. Labryga then tabled
for an underpair before raking in the pot.
Nível 34 : Blinds 150,000/300,000, 300,000 ante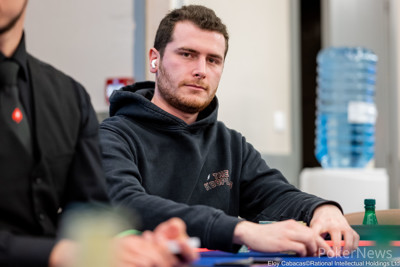 Jean-Luc Labryga opened from the hijack position to 700,000. Thibault Reverdito was in the big blind and defended with 2,125,000 in chips behind.
The flop
saw Labryga bet 1,200,000 after Reverdito checked. Not long after, Reverdito announced ''all-in'' for the rest of his chips. Labryga was notably unhappy, looked to the sky, and agonizingly threw his hands in the air several times. After a minute or so, he decided he could not fold, and made the call.
Thibault Reverdito:

Jean-Luc Labryga:
Reverdito was in great shape to double up with his flopped top pair, as long as he avoided an ace or a runner-runner in the runout.
The turn came
, which gave Labryga a gutshot to Broadway. The river
disgusted Reverdito, while Labryga cheered audibly, as it brought in said gutshot.
A runner-runner straight for Labryga to bust Reverdito as the first player today, raising his tally to four knockouts in a row since the last ten players.

Nível 34 : Blinds 150,000/300,000, 300,000 ante
The remaining players have agreed to take a 10-minute break.