€5,300 EPT Main Event
Dias: 4
€5,300 EPT Main Event
Dia 4 Iniciado
| Table | Seat | Player | Country | Chips |
| --- | --- | --- | --- | --- |
| 1 | 1 | Wojciech Szczytkowski | Poland | 455,000 |
| 1 | 2 | Jaspal Brar | Canada | 770,000 |
| 1 | 3 | Christian Grundtvig | Denmark | 820,000 |
| 1 | 4 | Carlos Ribeiro | Brazil | 1,480,000 |
| 1 | 5 | Jelle Moene | Netherlands | 260,000 |
| 1 | 6 | Igor Yaroshevskyy | Ukraine | 1,285,000 |
| 1 | 7 | Ryan Yu | Canada | 605,000 |
| 1 | 8 | Said Chegdane | Italy | 520,000 |
| | | | | |
| 2 | 1 | Torben Sorensen | Denmark | 740,000 |
| 2 | 2 | Baard Dahl | United Kingdom | 1,535,000 |
| 2 | 3 | Scott Margereson | United Kingdom | 1,715,000 |
| 2 | 4 | Reddy Patur | USA | 380,000 |
| 2 | 5 | Paul Fischill | Austria | 1,205,000 |
| 2 | 6 | Gaelle Baumann | France | 2,265,000 |
| 2 | 7 | Gergely Kulcsar | Hungary | 935,000 |
| 2 | 8 | Fredrik Skarfstad | Sweden | 460,000 |
| | | | | |
| 3 | 1 | Jimmy Guerrero | France | 1,350,000 |
| 3 | 2 | Guilherme Ramalho | Brazil | 1,210,000 |
| 3 | 3 | Ramiro Petrone | Uruguay | 1,565,000 |
| 3 | 4 | Ibrahim Aksu | Turkey | 510,000 |
| 3 | 5 | Daniel Birkmose | Denmark | 865,000 |
| 3 | 6 | Sebastian Toro Henao | Colombia | 1,415,000 |
| 3 | 7 | Guiseppe Moio | Italy | 340,000 |
| 3 | 8 | Jordan Saccucci | Canada | 3,250,000 |
| | | | | |
| 4 | 1 | Kayhan Mokri | Norway | 3,000,000 |
| 4 | 2 | Nikola Gunchev | Bulgaria | 615,000 |
| 4 | 3 | Maria Lampropulos | Argentina | 700,000 |
| 4 | 4 | Peterson Machado | Brazil | 4,470,000 |
| 4 | 5 | Georgi Sandev | Bulgaria | 720,000 |
| 4 | 6 | Lucas Silva Rocha | Brazil | 610,000 |
| 4 | 7 | Martin Olali | Ireland | 500,000 |
| 4 | 8 | Memeche Slimane | France | 627,000 |
| | | | | |
| 5 | 1 | Remigiusz Wyrzykiewicz | Poland | 225,000 |
| 5 | 2 | Tigran Harutyunyan | Armenia | 485,000 |
| 5 | 3 | Fabiano Kovalski | Brazil | 1,600,000 |
| 5 | 4 | Simon Brandstrom | Sweden | 710000 |
| 5 | 5 | Jack Salter | United Kingdom | 1,565,000 |
| 5 | 6 | Bruno Pega | Argentina | 545,000 |
| 5 | 7 | Enrico Mosca | Italy | 600,000 |
| 5 | 8 | Sergi Panella | Spain | 1,015,000 |
| | | | | |
| 6 | 1 | Giuliano Bendinelli | Italy | 1,155,000 |
| 6 | 2 | Belarmino De Souza | Brazil | 620,000 |
| 6 | 3 | Daniel Merrilees | Spain | 2,075,000 |
| 6 | 4 | Mustafa Biz | Turkey | 1,275,000 |
| 6 | 5 | Bruno Volkmann | Brazil | 880000 |
| 6 | 6 | Kalidou Sow | France | 1,490,000 |
| 6 | 7 | Emmanuel Lopez | Argentina | 3,000,000 |
| 6 | 8 | Patrik Jaros | Czech Republic | 2,200,000 |
| | | | | |
| 7 | 1 | Maher Nouira | Tunisia | 1,430,000 |
| 7 | 2 | Ryhor Karapanau | Latvia | 820,000 |
| 7 | 3 | Pim Kuipers | Netherlands | 420,000 |
| 7 | 4 | Michael Pinto | Netherlands | 580,000 |
| 7 | 5 | Michael Wang | USA | 1,095,000 |
| 7 | 6 | Marco Guibert | Argentina | 455,000 |
| 7 | 7 | Andre Marques | Portugal | 1,450,000 |
| 7 | 8 | Noah Boeken | Netherlands | 735,000 |
| | | | | |
| 8 | 1 | Peter Jaksland | Denmark | 355,000 |
| 8 | 2 | Stephen Kehoe | Ireland | 990,000 |
| 8 | 3 | Valentin-Marius Cristea | Romania | 385,000 |
| 8 | 4 | Lois Dufouleur | France | 730,000 |
| 8 | 5 | Jerwin Pasco | Philippines | 290,000 |
| 8 | 6 | Marcin Horecki | Poland | 345,000 |
| 8 | 7 | Mateus Endo | Brazil | 1,595,000 |
| 8 | 8 | Radoslav Stoyanov | Bulgaria | 700,000 |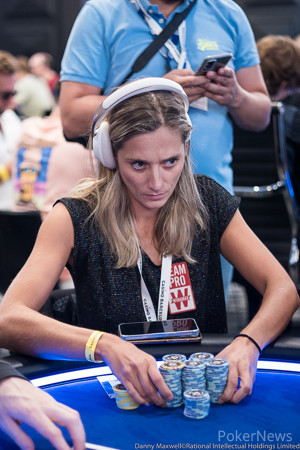 Out of a a massive field of 2,294 players, only 64 players will return at noon today to continue to battle it out in the €5,300 2022 PokerStars and Barcelona©Casino European Poker Tour Main Event.
Foremost among them in terms of chip count is Brazilian Peterson Machado, who has an impressive stack of 4,470,000. He will be joined near the top of the counts by Jordan Saccucci (3,250,000), Kayhan Mokri (3,000,000), Emmanuel Lopez (3,000,000) and Gaelle Baumann (2,265,000),
While those players are in the best position to advance to Day 5, accomplished players like Michael Wang (1,095,000) as well as defending champion Simon Brandstrom (710,000) and Maria Lampropulos (700,000) are also still in the hunt so it's sure to be a contentious day here on Day 4.
The remaining players are all guaranteed €23,580, but all eyes will be on the six-figure top prize of €1,714,000, and the title.
The day will begin at Level 23, with blinds of 10,000/25,000 and with a 25,000 ante. Play will consist of six 90-minute levels, with a 20-minute break after each level and a dinner break at the discretion of the tournament directors. A 30-second timer will be in use, with players getting replenished stashes of five time bank cards.
Stay with us at PokerNews as we get one day closer to crowning a champion.
Nível: 23
Blinds: 10,000/25,000
Ante: 25,000
Nível 23 : Blinds 10,000/25,000, 25,000 ante
The remaining 64 players are in their seats and Day 4 is now underway.
Nível 23 : Blinds 10,000/25,000, 25,000 ante
On one of the first hands of Day 4, Jelle Moene got his last 200,000 in the middle from under the gun and was called by Wojciech Szczytkowski in the cutoff.
Jelle Moene:

Wojciech Szczytkowski:
Moene hit top pair on the
board, but it wasn't enough to overcome Szczytkowski's two jacks as he became the first casualty of the day.
Nível 23 : Blinds 10,000/25,000, 25,000 ante
On the first hand of Day 4 action, Radoslav Stoyanov checked his option from the big blind in a pot of roughly 140,000 on a flop of
.
Stephen Kehoe continued from early position to 35,000 and Stoyanov made the call. On the
turn Stoyanov decided to take the lead with a bet of 65,000. Kehoe pondered for a moment but let his hand go and the early pot was shipped to Stoyanov.
Nível 23 : Blinds 10,000/25,000, 25,000 ante
Marco Guibert raised to 55,000 from middle position and Andre Marques called from one seat over along with Michael Pinto in the big blind.
The flop came
and was checked through to the
turn. Pinto bet 70,000 and Guibert called but Marques folded.
The
river completed the board and Pinto checked. Guibert fired a bet of 105,000 and Pinto gave it some thought but chose to let it go.
Nível 23 : Blinds 10,000/25,000, 25,000 ante
With roughly 1,400,000 in the pot on a
completed board, Paul Fischill moved all in from the hijack for 640,000. Gaelle Baumann was in the cutoff and thought about her decision, but the Frenchwoman sent her cards into the muck to concede the pot.
Nível 23 : Blinds 10,000/25,000, 25,000 ante
Radoslav Stoyanov raised to 50,000 in the hjiack before Peter Jaksland moved all in for 295,000 in the cutoff. Stoyanov gave it some thought before calling.
Peter Jaksland:

Radoslav Stoyanov:
The board ran out
and Stoyanov's two fives stayed ahead and sent Jaksland to the rail.
"Good game, everyone," Jaksland said as he tapped the felt and left the table.