€5,300 EPT Main Event
Dias: 4
€5,300 EPT Main Event
Dia 4 Iniciado
| Table | Seat | Player | Country | Chips |
| --- | --- | --- | --- | --- |
| 1 | 1 | Fabio Damaso | Portugal | 287,000 |
| 1 | 2 | Sergei Bagirov | Russia | 886,000 |
| 1 | 3 | Anton Wigg | Sweden | 430,000 |
| 1 | 4 | Andrija Robovic | Serbia | 1,691,000 |
| 1 | 6 | Tobias Peters | Netherlands | 731,000 |
| 1 | 7 | Artem Kobylinskiy | Ukraine | 1,432,000 |
| 1 | 8 | Ludvig Sterner | Sweden | 464,000 |
| | | | | |
| 2 | 1 | Ivan Zhechev | Bulgaria | 626,000 |
| 2 | 3 | Marcin Kreft | Poland | 330,000 |
| 2 | 4 | Tomas Macnamara | UK | 335,000 |
| 2 | 5 | Joris Ruijs | Netherlands | 1,011,000 |
| 2 | 6 | Jia Tang | China | 927,000 |
| 2 | 7 | Armin Mette | Austria | 442,000 |
| 2 | 8 | Maciej Rogacki | Poland | 626,000 |
| | | | | |
| 3 | 1 | Paul Michaelis | Germany | 186,000 |
| 3 | 2 | Xixiang Luo | China | 962,000 |
| 3 | 4 | Pim Gieles | Netherlands | 314,000 |
| 3 | 5 | Sergiu Covrig | Romania | 180,000 |
| 3 | 6 | Ugo Faggioli | France | 700,000 |
| 3 | 7 | Laurynas Levinskas | Lithuania | 523,000 |
| 3 | 8 | Kent Røed | Norway | 1,036,000 |
| | | | | |
| 4 | 1 | Grzegorz Grochulski | Poland | 1,656,000 |
| 4 | 2 | Konstantin Farber | Germany | 2,000,000 |
| 4 | 3 | Guenter Halak | Austria | 648,000 |
| 4 | 4 | Michal Schuh | Czech Republic | 644,000 |
| 4 | 5 | Evangelos Bechrakis | Greece | 1,941,000 |
| 4 | 6 | Natalie Teh | Malaysia | 988,000 |
| 4 | 7 | Andriy Mertengren | Ukraine | 415,000 |
| 4 | 8 | Ramzey Idriss | Lebanon | 713,000 |
| | | | | |
| 5 | 1 | Gor Kazarian | Russia | 246,000 |
| 5 | 2 | Andrey Pateychuk | Russia | 849,000 |
| 5 | 3 | Diego Zeiter | Argentina | 756,000 |
| 5 | 4 | Henrik Hecklen | Denmark | 373,000 |
| 5 | 5 | Teymur Valiyev | Azerbaijan | 337,000 |
| 5 | 7 | Alexandr Merzhvinskii | Russia | 1,463,000 |
| 5 | 8 | Serhii Holodiuk | Ukraine | 816,000 |
| | | | | |
| 6 | 1 | Vicent Bosca | Spain | 162,000 |
| 6 | 2 | Liviu Ignat | Romania | 1,148,000 |
| 6 | 3 | Simon Pedersen | Denmark | 658,000 |
| 6 | 4 | Parker Talbot | Canada | 1,690,000 |
| 6 | 5 | Carlos Branco | Portugal | 884,000 |
| 6 | 6 | Jani Vilmunen | Finland | 1,063,000 |
| 6 | 7 | Dimitrios Michailidis | Greece | 1,384,000 |
| 6 | 8 | Vlada Stojanovic | Serbia | 198,000 |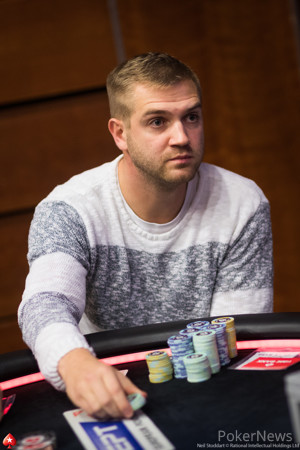 Forty-four remain and 16 of them will survive. It's time for Day 4 of 2018 PokerStars European Poker Tour Prague.
Two Day 1s and two more days have been played at Hilton Prague. The starting stack of 30,000 now represents just a couple of big blinds, and 44 competitors have emerged from the field of 1,174, competing for a first-place prize of over €1 million.
Foremost among them in terms of chip count is Konstantin Farber, who has 2 million as the tournament prepares to head to 8,000/16,000/16,000. The Day 3 leader will be joined near the top of the counts by Evangelos Bechrakis, Andrija Robovic and Parker Talbot.
The last name may be of most note to poker fans around the world, especially the nearly 100,000 who follow Talbot's online tournament exploits on Twitch.
While those players are in the best position to advance to Day 5, accomplished players like Liviu Ignat, Tobias Peters, Andrey Pateychuk, Anton Wigg and Henrik Hecklen also remain in contention, so it's sure to be a contentious day here on Day 4.
Play will begin at the aforementioned 16,000 level with eight-handed tables and 90-minute levels, starting at noon local time here in the Czech capital. Breaks will be given after every level and play will continue until the last 16 bag up for the final two days of the event. A 30-second timer will be in use, with players getting replenished stashes of six time banks.
Stay with us at PokerNews as the final EPT event of the year continues to wind down.
Nível: 21
Blinds: 8,000/16,000
Ante: 16,000

Nível 21 : 8,000/16,000, 16,000 ante
Vlada Stojanovic was all-in for his last 190,000 from the cutoff and was called by Simon Pedersen in the big blind.
Vlada Stojanovic:

Simon Pedersen:
The flop came
for Pedersen to hit top pair immediately.
The turn was the
for Stojanovic to have a glimmer of hope as any nine or ten would give Stojanovic the double-up but the
meant that Stojanovic was the first to leave the Main Event stage in 44th place for €17,540.
Immediately after, Pedersen picked up another pot where the board read
with over 300,000 in the middle already. Pedersen bet 80,000 from the small blind and Dimitrios Michailidis folded in the hijack. Pedersen is now sitting on a stack of around a million.
Nível 21 : 8,000/16,000, 16,000 ante
Fabio Damaso caught Andrija Robovic bluffing for a decent-sized pot and then they played an even bigger one when Damaso opened cutoff to 32,000 and Robovic set him in from the big blind. Damaso quickly called it off with
and Robovic showed
.
The
left Robovic drawing all but dead. He did catch a snowman on the turn but the river was the
. Robovic sent over 491,000.
Nível 21 : 8,000/16,000, 16,000 ante
Aleksandr Merzhvinskiy opened for 32,000 second to act and called the shove of Gor Kazarian, who jammed cutoff for 166,000. Kazarian had a dominating spot with
against
and the
board was no trouble for him.
Nível 21 : 8,000/16,000, 16,000 ante
Evangelos Bechrakis opened for 40,000 early and called a three-bet to 107,000 from Ramzey Idriss a few seats over. The flop came
and Bechrakis check-called 42,000. Idriss fired bigger with 230,000 on the
turn and Bechrakis quickly mucked.
Idriss flipped over his
.
Nível 21 : 8,000/16,000, 16,000 ante
Carlos Branco raised to 35,000 early and had to contend with a three-bet to 115,000 from Dimitrios Michailidis in the cutoff. Branco came back with 275,000 and earned the pot.

Nível 21 : 8,000/16,000, 16,000 ante
Fabio Damaso raised to 40,000 from mid-position and action folded to Artem Kobylynskyi in the big blind who three-bet to 140,000 which Damaso called.
The flop came
, Kobylynskyi bet 125,000 and Damaso called again.
They both checked through the
on the turn to the
, Kobylynskyi checked again and Damaso took a few seconds before announcing a bet of 175,000. Kobylynskyi used his full 30 seconds before opting to fold.