Nível 25 : 20,000/40,000, 40,000 ante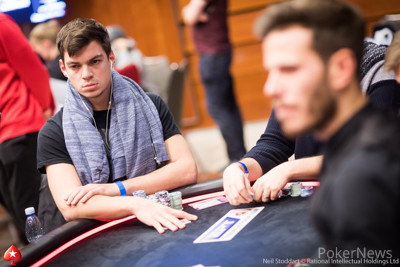 Five levels of 90 minutes each were played on Day 4 of the PokerStars European Poker Tour Prague €5,300 Main Event here in the Hilton Prague. At noon, 44 players returned to battle it out and now there are 16 players left. Germany's Paul Michaelis takes the overnight chip lead with him as he bagged 5,315,000.
Michaelis actually started the day as one of the short stacks with 12 big blinds, and he hovered somewhere in the middle of the pack for most of the day but had an amazing last two levels going from around 1,100,000 in chips to almost quintuple that. He first doubled up through Artem Kobylynskyi with ace-king against the ace-queen of Kobylynskyi. He then eliminated Andrija Robovic with pocket kings when Robovic held pocket queens. Michaelis kept getting involved in pots, collecting more and more chips in the meanwhile, to end the day at the top of the chip counts.
Trailing Michaelis in second place in the leaderboard is Liviu Ignat with 4,550,000. During the last level of the night, Ignat scored a huge double-up against the Day 3 chip leader Konstantin Farber. Ignat held pocket kings while Farber had pocket jacks, the board didn't provide any danger to Ignat as he doubled over for the more than 2 million in chips that he had behind. Farber managed to find a double later on and bagged 1,700,000 which are fewer chips than he started with but he'll be happy to have survived the day.
Diego Zeiter closes the podium in third place, bagging 3,905,000 at the end of the day. Zeiter coolered Xixiang Luo when he had flopped the higher set with pocket sevens when Luo was sitting on the set of sixes. Parker Talbot collected 3,250,000 to finish in fourth place in the chip counts while Evangelos Bechrakis sealed 2,170,000 into his bag for Day 5.
Ugo Faggioli won a huge pot in the fourth level of the day when Guenter Halak shoved almost 14 big blinds after Faggioli had raised. Evangelos Bechrakis called and Faggioli shoved for almost 2 million. Bechrakis also called that shove, holding pocket queens, while Halak had pocket tens. But Faggioli was ahead as he held the rockets and didn't give that lead up all throughout the board and took the chip lead into the last break of the night but ended up with 3,500,000 in chips.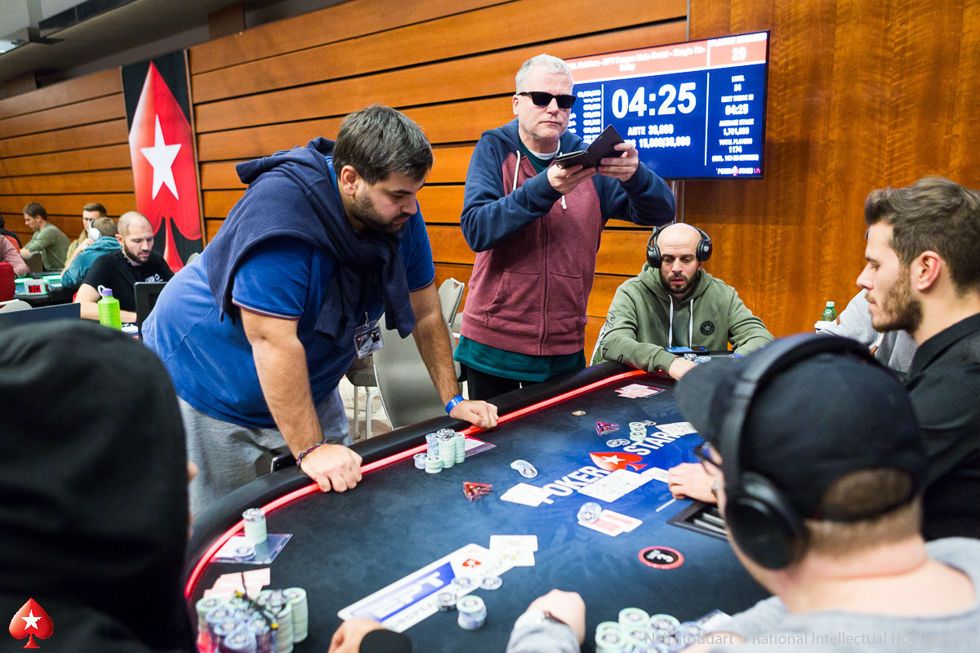 Andrey Pateychuk will be going into Day 5 as the short stack with 705,000 but he probably is one of the more experienced live tournament grinders left in the field. Plus, he has also already shipped an EPT before. Pateychuk won EPT San Remo in Season 8, 2011, for €680,000 and will be looking to run his stack up for another win.
Not everyone was successful in winning their all-ins as players like Tobias Peters, Henrik Hecklen, Natalie The, Joris Ruijs, Michal Schuh and Anton Wigg were all eliminated on Sunday.
The 16 remaining players will return at noon to finish the last five minutes of Level 25 which features a small blind of 20,000, big blind of 40,000, and a big blind ante of 40,000. They will then immediately continue with Level 26 with a small blind of 25,000, big blind of 50,000, and a big blind ante of 50,000. Play is expected to continue until there are six players left but this is subject to change at the tournament director's discretion.
The PokerNews live reporting will be there from the first shuffle up and deal until the final bag has been sealed so come back at noon, Monday, December 17, to see who will be making waves on Day 5 of the Main Event.