Event #1: $1,150 No-Limit Hold'em
Dias: 2
Event #1: $1,150 No-Limit Hold'em
Dia 2 Iniciado

| Table | Seat | Player | Chip Count |
| --- | --- | --- | --- |
| 25 | 1 | Patrick Fletcher | 82600 |
| 25 | 2 | Neil Correa | 39900 |
| 25 | 3 | Samuel Butters | 65900 |
| 25 | 4 | Stephen Koutsouvelis | 17900 |
| 25 | 5 | Mark Montague | 38100 |
| 25 | 6 | Zac Duce | 72500 |
| 25 | 7 | Jacob Rodgerson | 26800 |
| 25 | 8 | Paul Birman | 36700 |
| 25 | 9 | Ferenc Riech | 205700 |
| | | | |
| 26 | 1 | Nikolas Katelaris | 39900 |
| 26 | 2 | Joseph Abdulnour | 35400 |
| 26 | 3 | David Leas | 16200 |
| 26 | 4 | Tatjana Zizic | 38900 |
| 26 | 5 | Travis Rawlins | 67000 |
| 26 | 6 | Charles Caris | 80900 |
| 26 | 7 | Felix Stephensen | 87200 |
| 26 | 8 | Matthew Woodards | 49400 |
| 26 | 9 | Aleksandar Angelevski | 89000 |
| | | | |
| 27 | 1 | Franjo Mikletic | 25000 |
| 27 | 2 | Ioannis Makris | 87500 |
| 27 | 3 | Zeljko Josipovic | 39100 |
| 27 | 4 | Charlton Hawes | 22200 |
| 27 | 5 | Halil Bozdugan | 36300 |
| 27 | 6 | Stevan Chew | 13200 |
| 27 | 7 | Brian Sockalingum | 24800 |
| 27 | 8 | Sean Giesbrecht | 76600 |
| 27 | 9 | Matt Salsberg | 22000 |
| | | | |
| 28 | 1 | Qiang Fu | 158200 |
| 28 | 2 | Christos Vlahos | 32200 |
| 28 | 3 | Tony Mai | 30200 |
| 28 | 4 | Michael Litinsky | 84000 |
| 28 | 5 | Raybon Kan | 48800 |
| 28 | 6 | Benjamin Savage | 68800 |
| 28 | 7 | Van Marcus | 148800 |
| 28 | 8 | Sammy Lucisano | 35200 |
| 28 | 9 | Russell Thomas | 85000 |
| | | | |
| 29 | 1 | Louis Salter | 120000 |
| 29 | 2 | Dylan Honeyman | 55900 |
| 29 | 3 | Robert Black | 137000 |
| 29 | 4 | Rainer Kempe | 44200 |
| 29 | 5 | Lik Ching Li | 42100 |
| 29 | 6 | Damien Walsh | 82700 |
| 29 | 7 | Sam Ruha | 66600 |
| 29 | 8 | Jeremy Rowell | 21300 |
| 29 | 9 | Ryan Paton | 103900 |
| | | | |
| 30 | 1 | Panayotis Flourentzou | 87200 |
| 30 | 2 | Connie Graham | 30500 |
| 30 | 3 | Joseph Sandaev | 12300 |
| 30 | 4 | Andrew Bayliss | 47500 |
| 30 | 5 | Matthew Kozole | 41900 |
| 30 | 6 | Kyle White | 52700 |
| 30 | 7 | Jeffrey Bickley | 16800 |
| 30 | 8 | Yurek Jarnevic | 38400 |
| 30 | 9 | David Veigli | 26900 |
| | | | |
| 31 | 1 | Simon Chahine | 72000 |
| 31 | 2 | Donna Heald | 55500 |
| 31 | 3 | Luke Tsapazis | 22000 |
| 31 | 4 | Kim Au | 89100 |
| 31 | 5 | Adrian Stone | 52300 |
| 31 | 6 | Terence Stevens | 65900 |
| 31 | 7 | Jarryd Godena | 54800 |
| 31 | 8 | Shoshiro Karita | 27500 |
| 31 | 9 | Reza Vakili | 68600 |
| | | | |
| 32 | 1 | Pietro Tessarin | 79700 |
| 32 | 2 | Igor Sesar | 69500 |
| 32 | 3 | Konstanti Stavrakakis | 30100 |
| 32 | 4 | Faik Hanna | 48300 |
| 32 | 5 | Aditya Rao | 107500 |
| 32 | 6 | Ryan Otto | 82700 |
| 32 | 7 | Daniel McDonald | 68100 |
| 32 | 8 | Qinyi Tong | 55800 |
| 32 | 9 | Robert Raymond | 55100 |
| | | | |
| 33 | 1 | Kenneth Khoo | 123300 |
| 33 | 2 | Sarkiss Osalian | 12600 |
| 33 | 3 | Pryce Pincott | 106600 |
| 33 | 4 | David Ottey | 23100 |
| 33 | 5 | John Thomson | 103000 |
| 33 | 6 | Johannes Englundh | 30800 |
| 33 | 7 | Damon Lum | 52800 |
| 33 | 8 | George Iramiyan | 24800 |
| 33 | 9 | Najeem Ajez | 55300 |
| | | | |
| 34 | 1 | Jonathan Karamalikis | 11100 |
| 34 | 2 | Nikola Lackovic | 69200 |
| 34 | 3 | David Tang | 94700 |
| 34 | 4 | Derek Wolfers | 30600 |
| 34 | 5 | Dale Townsend | 28500 |
| 34 | 6 | Michael Tomeny | 49000 |
| 34 | 7 | Matthew Wakeman | 30200 |
| 34 | 8 | Joseph Vinecombe | 37500 |
| 34 | 9 | Gregory Hernandez | 72700 |
| | | | |
| 35 | 1 | Jacob Elmore Dahl | 60900 |
| 35 | 2 | Stafford Hamilton | 61200 |
| 35 | 3 | Adrian Ong | 40600 |
| 35 | 4 | Andrew Hinrichsen | 95600 |
| 35 | 5 | Li Quan | 76000 |
| 35 | 6 | Zack Jacobs | 55400 |
| 35 | 7 | Ziga Janskovec | 30300 |
| 35 | 8 | Lukas Soucek | 88200 |
| 35 | 9 | John Overbeek | 37500 |
| | | | |
| 36 | 1 | Lorenzo Maenza | 14400 |
| 36 | 2 | Stephen Boots | 52400 |
| 36 | 3 | Wan Gan | 29800 |
| 36 | 4 | Ali Ibrahim | 64200 |
| 36 | 5 | Jason Gilbert | 69000 |
| 36 | 6 | Eric Theissen | 45800 |
| 36 | 7 | Michael Addamo | 129400 |
| 36 | 8 | Imran Ali | 96600 |
| 36 | 9 | Andrew Dales | 48400 |
| | | | |
| 37 | 1 | Camil Debsia | 30900 |
| 37 | 2 | Wayne Brindley | 62200 |
| 37 | 3 | Pheap Chea | 38100 |
| 37 | 4 | Oliver Gill | 99400 |
| 37 | 5 | Adam Dhue | 42500 |
| 37 | 6 | Jakson Laughton | 27200 |
| 37 | 7 | Tony Makasovski | 9500 |
| 37 | 8 | George Dionisopolous | 111400 |
| 37 | 9 | Louie Srour | 48000 |
| | | | |
| 38 | 1 | Hon Cheong Lee | 56300 |
| 38 | 2 | Thoai Tran | 18300 |
| 38 | 3 | Sam Higgs | 60700 |
| 38 | 4 | Wissam Boumadi | 13600 |
| 38 | 5 | Niall Farrell | 131000 |
| 38 | 6 | Nam Le | 45700 |
| 38 | 7 | Xuan Liu | 31700 |
| 38 | 8 | Don Mishra | 81600 |
| 38 | 9 | Victor Chong | 93600 |
| | | | |
| 39 | 1 | Jun Young Park | 28300 |
| 39 | 2 | Nemanja Svircev | 70900 |
| 39 | 3 | Alexandre Thomas | 61700 |
| 39 | 4 | Senthilkumar Subramaniam | 16800 |
| 39 | 5 | Jim Andreadis | 98100 |
| 39 | 6 | Kevin Blackwood | 148200 |
| 39 | 7 | Haralambos Vlazakis | 178000 |
| 39 | 8 | Jack Lee | 48200 |
| 39 | 9 | Joseph Cristallo | 94100 |
| | | | |
| 40 | 1 | Daniel Trewin | 45600 |
| 40 | 2 | Clement Lau | 32700 |
| 40 | 3 | Benjamin Lee | 35600 |
| 40 | 4 | Dean Yuen | 41800 |
| 40 | 5 | Katrina Sheary | 38500 |
| 40 | 6 | Josep Maria Galindo Lopez | 88200 |
| 40 | 7 | Brenton Hart | 17400 |
| 40 | 8 | Tariq Naqqash | 70300 |
| 40 | 9 | Ali Ghezelbash | 30300 |
| | | | |
| 41 | 1 | Matas Cimbolas | 81300 |
| 41 | 2 | Hoong Ping Yong | 17500 |
| 41 | 3 | Andre de Melo | 34500 |
| 41 | 4 | Craig Waters | 34000 |
| 41 | 5 | Damian Harman | 76900 |
| 41 | 6 | Steven Vun | 41400 |
| 41 | 7 | Rody Kaka | 53600 |
| 41 | 8 | Teresa Natoli | 42600 |
| 41 | 9 | Jason Giuliano | 68900 |
| | | | |
| 42 | 1 | John Zindo | 31400 |
| 42 | 2 | Guangqi Zhang | 123700 |
| 42 | 3 | Christopher Coghlan | 25400 |
| 42 | 4 | Graeme Putt | 36500 |
| 42 | 5 | Craig Matthews | 30900 |
| 42 | 6 | Brent De Jong | 159600 |
| 42 | 7 | Aaron Summers | 102900 |
| 42 | 8 | Wayne Lee | 57000 |
| 42 | 9 | Jozef Ricciardello | 107100 |
| | | | |
| 43 | 1 | Christian Nolte | 166500 |
| 43 | 2 | Marc van Hoof | 45400 |
| 43 | 3 | [Removed:415] | 48500 |
| 43 | 4 | Adam Albarri | 37200 |
| 43 | 5 | Daniel Neilson | 167000 |
| 43 | 6 | Steven Blanco | 12300 |
| 43 | 7 | Vic Spadavecchia | 17900 |
| 43 | 8 | Murphy McKenna | 63900 |
| 43 | 9 | Navid King | 48200 |
| | | | |
| 44 | 1 | Adeel Shaikh | 103600 |
| 44 | 2 | Joseph Cabret | 60700 |
| 44 | 3 | Stephen McCormick | 60200 |
| 44 | 4 | Phares Bouya | 75600 |
| 44 | 5 | Alex Zlikaliskas | 48200 |
| 44 | 6 | Sinan Aydogan | 93200 |
| 44 | 7 | Luke Butch | 28200 |
| 44 | 8 | Luciano Santos de Hollanda | 48400 |
| 44 | 9 | James Keenan | 121000 |
| | | | |
| 45 | 1 | Wingsang Lee | 31700 |
| 45 | 2 | Aeron McFarlane | 47200 |
| 45 | 3 | Julius Colman | 61700 |
| 45 | 4 | Glenice Demarco | 40000 |
| 45 | 5 | Norman Shill | 67400 |
| 45 | 6 | Adriano Scagnetti | 157000 |
| 45 | 7 | Johnny Reid | 29900 |
| 45 | 8 | Daniel Levy | 33800 |
| 45 | 9 | Robbie Stewart | 24500 |
| | | | |
| 46 | 1 | Emanuel Ruzeu | 9400 |
| 46 | 2 | Mathew Donaldson | 40200 |
| 46 | 3 | Ross Ayling | 18600 |
| 46 | 4 | Gerald Karlic | 53200 |
| 46 | 5 | Rahul Rastogi | 55000 |
| 46 | 6 | Raj Ramakrishnan | 39600 |
| 46 | 7 | Thomas Miller | 30700 |
| 46 | 8 | Jessica Liang | 33900 |
| 46 | 9 | Sargon Zindo | 101600 |
| | | | |
| 47 | 1 | Phachara Wongwichit | 94700 |
| 47 | 2 | Paul Murphy | 41900 |
| 47 | 3 | Gary Gabriel | 79800 |
| 47 | 4 | Chris Hodgson | 19000 |
| 47 | 5 | George Mandelos | 57600 |
| 47 | 6 | Gary Di Paola | 101700 |
| 47 | 7 | Eiji Matsumura | 25400 |
| 47 | 8 | Dean Blatt | 92700 |
| | | | |
| 48 | 1 | Ricky Lim | 74000 |
| 48 | 2 | Tong Nguyen | 27900 |
| 48 | 3 | Frank Sebban | 89900 |
| 48 | 4 | Jason Ross | 54200 |
| 48 | 5 | Ronnie Bardah | 83200 |
| 48 | 6 | Michael Seymour | 167900 |
| 48 | 7 | Brett Murtagh | 25400 |
| 48 | 8 | Mark Malecha | 81100 |
| | | | |
| 49 | 1 | Paul Sharbanee | 20200 |
| 49 | 2 | Marc Liddell | 48500 |
| 49 | 3 | John Apostolidis | 36000 |
| 49 | 4 | Max Chin | 28800 |
| 49 | 5 | Sam Korman | 72200 |
| 49 | 6 | Peter Natoli | 48600 |
| 49 | 7 | Rohan Makim | 58900 |
| 49 | 8 | Jie Gao | 102000 |

Jogador
Fichas
Oscilação

Ferenc Riech

205,700

Haralambos Vlazakis

178,000

50,000

Michael Seymour

167,900

Daniel Neilson

167,000

Christian Nolte

166,500

Brent De Jong

159,600

Qiang Fu

158,200

Adriano Scagnetti

157,000

Van Marcus

148,800

Kevin Blackwood

148,200

Robert Black

137,000

Niall Farrell

131,000

Michael Addamo

129,400

Guangqi Zhang

123,700

Kenneth Khoo

123,300

James Keenan

121,000

Louis Salter

120,000

George Dionisopolous

111,400

Aditya Rao

107,500

Jozef Ricciardello

107,100

Pryce Pincott

106,600

Ryan Paton

103,900

Adeel Shaikh

103,600

John Thomson

103,000

Aaron Summers

102,900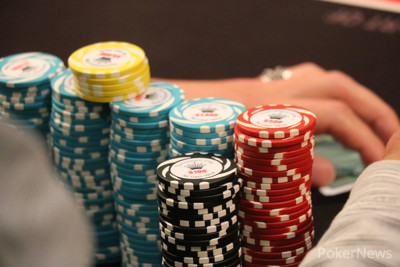 In half an hour from now at 12.15 p.m. local time, Day 2 of the A$1,150 No-Limit Hold'em Opening Event will get underway at the Crown Casino in Melbourne. The first event of the 2016 Aussie Millions Poker Championship drew a field of 1,320 entries through four starting days and just 222 remain to battle for the first-place payout of A$275,300.
The top 126 spots will get paid at least A$2,975 and a total of ten 60-minute levels are scheduled for the penultimate day with a 30-minute dinner break after the end of level six. Play resumes with blinds at 1,200-2,400 and a running ante of 400. Still in the lead is Flight 2 chip leader Ferenc Riech with 205,700.
In the overall top 10, only one other player is not from Australia and that is fellow German Christian Nolte, who led Flight D last night with 166,500. Besides that, plenty of local talent has made it through including Daniel Neilson (167,000), Australian Poker Hall of Famer Van Marcus (148,800) and Andrew Hinrichsen (95,600).
The international field is represented by EPT Malta champion Niall Farrell (131,000), Kenneth Khoo (123,300), Louis Salter (120,000), Josep Maria Galindo Lopez (88,200), Ronnie Bardah (83,200) and Matas Cimbolas (81,300). Among the shorter stacks are Gerald Karlic (53,200), Rainer Kempe (44,200) and Xuan Liu (31,700).
The event is scheduled to play down to a winner tomorrow and the PokerNews live reporting team will be at hand to provide all key hands until the final river card is dealt.
Nível: 13
Blinds: 1,200/2,400
Ante: 400

Nível 13 : 1,200/2,400, 400 ante
The cards of Ali Ghezelbash were already in the muck, but he had been unable to beat the
of Josep Maria Galindo Lopez on a board of
. The Spaniard moved up to six digits and is well on track with twice the average.
Nível 13 : 1,200/2,400, 400 ante
Flight 1 chip leader Brent De Jong just got his big stack cut down to size.
Wayne Lee shoved over his 7,000-chip late-position open and De Jong called with the
. Lee had the
and held on a
run out.

Nível 13 : 1,200/2,400, 400 ante
Jonathan Karamalikis walked over to Xuan Liu and reported about his elimination while a short-stacked Nam Le just shoved for the remainder of his stack with
. Liu called with
and scooped the pot after a board of
. Soon after, Wissam Boumadi moved all in and Liu flat-called, all other opponents folded.
Boumadi:

Liu:
After the board
, Liu had knocked out the second player in a row and more than doubled up her stack.

Nível 13 : 1,200/2,400, 400 ante
Russell Thomas had Christos Vlahos at risk of elimination with
versus
and flopped top pair on
. Instead of the flush, Vlahos made a back door straight thanks to the
turn and
river to stay in the tournament.
Nível 13 : 1,200/2,400, 400 ante
Qiang Fu just saw his stock sink losing a classic race.
He got it in with queens versus Tony Mai's big slick and Mai spiked a king to double through.