Event #1: $1,150 No-Limit Hold'em
Dias: 1a
Event #1: $1,150 No-Limit Hold'em
Dia 1a Iniciado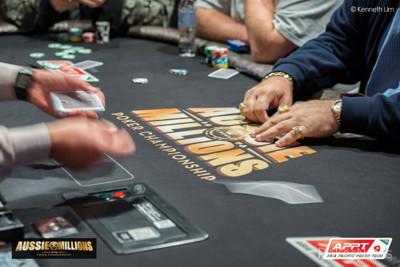 The opening event of the 2016 Aussie Millions Poker Championship at the Crown Casino in Melbourne gets underway in one hour from now at 6.10 p.m. local time. The AU$ 1,150 No Limit Hold'em tournament consists of four flights in total and players have the option to re-enter in the next flight for their chance at the AU$1,000,000 guaranteed prize pool.
All participants start with 10,000 in chips and each Day 1 will play 12 levels of 40 minutes each without any dinner break. The remaining fields of each flight are united for Day 2 on Sunday January 17th, the winner is then determined one day later.
Stay tuned, as the PokerNews live reporting team will be here in Melbourne for the entire Series to cover the Final Tables of the preliminary events as well as the full action of all major tournaments including the Main Event, the $25,000 Challenge as well as the $100,000 and the $250,000 Challenge.
Nível: 1
Blinds: 50/100
Ante: 0

Nível 1 : 50/100, 0 ante
The cards are officially in the air and the shuffle up and deal was done by Andrew "Freddie" Flintoff. Well known for playing cricket in Australia, the Brit grew up with chess and also plays poker from time to time as well. Unfortunately, Flintoff cannot compete in the Opening Event due to work duties, though.

Nível 1 : 50/100, 0 ante
One of the most-easy to recognize players in today's field surely is Tony Dunst. As international well known poker pro, the American is setting another standard in always dressing up nicely when playing and sure enough came in to take his seat while wearing a jacket.
In one of his first few hands at the table, there was a limped three-way pot with Dunst in the big blind. The flop
saw a bet worth 225 by the player in the small blind and both his opponents including Dunst tossed their cards into the muck.
Jogador
Fichas
Oscilação

Tony Dunst

10,000

10,000

Nível 1 : 50/100, 0 ante
Most of the participants are local players and four of them immediately came to mind from the 2014 World Series of Poker Asia Pacific in Julius Colman, Sam Khouiss, Tony Kambouroglou and Geoffrey Mooney.
As the first level of this first Aussie Millions Championship event comes to a close, a local Melbourne grinder has emerged as the early chip leader.
Luke McLean, who is no stranger to success at Crown having cashed for upwards of $70,000 in tournaments here, just got off to a fast start, busting one foe when he flopped a set of eights.
His unfortunate opponent had
for top two, and after a raising war on the flop, got it in, failed to improve and went broke, allowing McLean's ascention into the chip lead.

Nível 1 : 50/100, 0 ante
Marc MacDonell had spent some time in Sydney with his family and then headed over to Melbourne to compete in the Aussie Millions. Louis Salter, the younger brother of Jack, is also here as well. And then, Bruno Portaro has also entered the competition. Among other results, Portaro finished 13th in the 2014 WSOP APAC A$ 1,100 No Limit Hold'em Accumulator event here at the Crown Casino in Melbourne.
Nível: 2
Blinds: 75/150
Ante: 0

Nível 2 : 75/150, 0 ante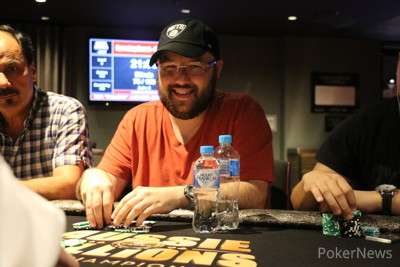 Despite having lost quite some chips from the initial stack of 10,000 already, 2014 World Series of Poker Asia Pacific Main Event champion Scott Davies is still all smiles. "Oh, they are all over the place," Davis pointed to his opponents while laughing. At his table, Peter Aristidou also just sat down with a fresh stack.
Their table is in the secondary tournament area, where another Satellite for this very tournament currently takes place.